PWC Lifts
EZ Port 2, EZ Port 3, EZ Port & Stow - Idle Up and Roll Aboard
EZ Port® revolutionized docking and launching with the original drive-on PWC lift. Still the industry leader, EZ Port is the simplest drive-on, push-off method of dry-docking. The raised bow stop serves as a safety feature that helps to prevent drivers from "overshooting."
There is no winching, cranking, pumping or hoisting necessary and its durability is the reason why EZ Port remains the number one PWC lift in the market.
The self floating EZ Port moves with changing water levels and helps protect watercraft from damage caused by wind or waves. It is so simple to use that even beginner PWC operators will find boarding and launching a breeze, with foot space on both sides and the front to allow ample access and stability.
EZ Port installation requires just a few tools and very little time. You can use it with your EZ Dock system or with an existing traditional dock. Plus, EZ Port uses adjustable polyurethane rollers to help protect against scratching your PWC investment and to make it easier to dock and launch your watercraft.
Features & Benefits
Adjustable rollers
Safe PWC storage
Safety bulkhead
Three-sided accessibility
Low maintenance
Cool beige or silver color for the Sea-Doo Port
Tie up cleat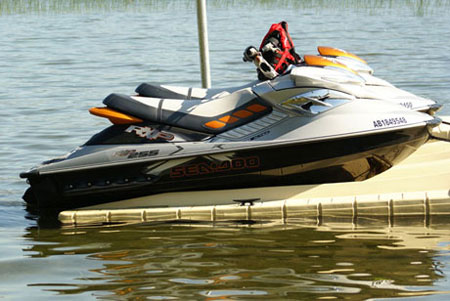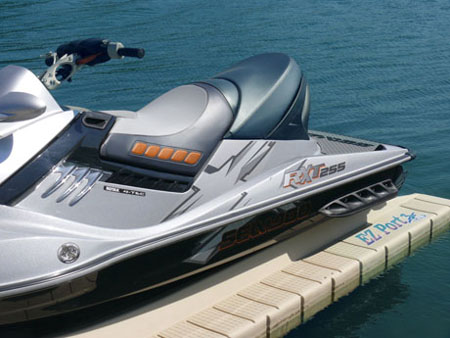 EZ Port MAX
The EZ Port MAX is EZ Dock's newest personal wartercraft port/lift product. EZ Port MAX is a port system that is Modular, Adaptable and eXpandable. It is the first port of its kind to offer EZ on and EZ off inline parking for multiple PWC parking.
The EX Port MAX can be used with standard EZ Dock, traditional fixed or floating docks or freestanding.
EZ Port® Max has lower entry roller for easy approach and softer entry, loading and unloading. It is available in multiple colors.
Features & Benefits
Entry sections may be used "head-to-head" for a drive-thru configuration
Larger walking surface for easy maneuverability around your PWC for easy launching/retrieval
Adjustable break-over roller protecting the bottom of your PWC from wear and for softer entry on-to your port at entry
Higher and wider hull "cradle" to accommodate newer wider and heavier personal watercraft
Patent-pending side rollers to provide easy roll-on and roll-off of your PWC
Full Bow Stop section
Small Bow Stop