NEW Boat Port
EZ Dock's new Boat Port is the perfect choice for many skiffs, funabouts, and light fishing boats. Adjustable rollers and bunks allow the boat Port to fit a wide variety of boat shapes and sizes.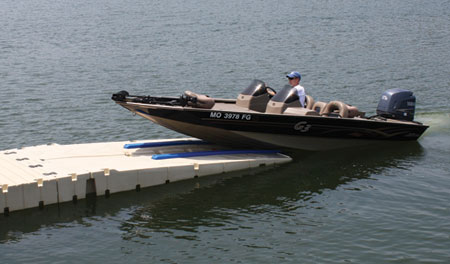 Designed like our other EZ Port products with an easy drive-on, push off method of dry docking, the Boat Port is self-floating and can move with the changing water levels.
Keeping your boat high and dry, the Boat Port eliminates the need for winching, cranking, pumping or hoisting.
When your day of fun and sun has ended, dock on the number-one dry-docking boat lift system. EZ Dock offers a host of configurations for winch-on and drive-on boat lifts. With these boat dock systems, docking is as simple as loading onto a roller bed trailer. These unique docking options will keep your boat high and dry; free from impacts, floating debris, algae and barnacles.
Winch-On Boat Lift
The EZ Dock Winch-On Boat Lift System is engineered to accommodate most fiberglass V-style hull boats and can also secure other watercraft as well. You can add sections to create docking for pontoons, catamarans, and even seaplanes effectively turning the system into a universal watercraft lift. The multiple premium adjustable rollers can accommodate boats with a 14 to 21 dead-rise angle. By positioning the rollers in different configurations, eight different heights can be achieved to suit your docking needs. Check with your local dealer to help you select the right boat lift for your situation.
Features and benefits:
Adjustable polyurethane rollers
High-quality winch system
Protective bow stop
Modular intermediate section
Sculpted stern section aids boarding and unloading
Low maintenance
Cool beige color
Boat launching strap (for specific applications)

DIMENSIONS
SECTION WEIGHT
A.
Winch/Bow Stop Section #204005FL
20" (50cm) Long X 40" (1m) Wide X 15" (38cm) High*

45 lbs.

(20.4 kg)

WINCH
Fulton XLT series 20' (6.1m) strap and hook*
1400 lb. (635kg)
B.
Intermediate Roller Section #204020FL
20" (50cm) Long X 40" (1m) Wide X 15" (38cm) High*

45 lbs.

(20.4 kg)

ROLLERS
One adjustable roller*
C.
Stern Roller Section#204670FL
60" (1.5m) Long X 70" (1.8m) Wide X 15" (38cm) High*

150 lbs.

(68 kg)

ROLLERS
Two adjustable rollers. One fixed rear roller*
*Stern Section adds 18" (46cm) to length of dock.
Because of the rotomoldig process, weights and dimensions may vary.
Port IV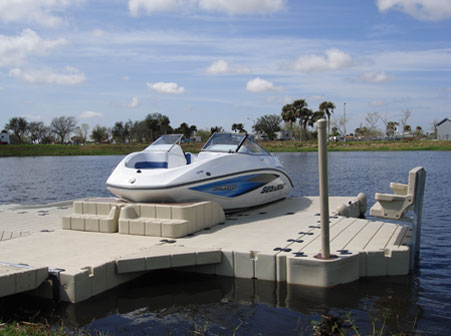 Drive-On Boat Lift, EZ Port IV
The EZ Port IV offers the same EZ drive-on docking and launching capabilities as a regular PWC EZ Port (PWC Lift), but it is made specifically for boats up to 20' (6m). It is the largest drive on port on the market and you can mount it to your current EZ Dock system, existing dock, or use as a stand-alone boat lift. You can even add an extension and/or supplemental floatation to the EZ Port IV to accommodate larger boat sizes.
Features and Benefits:
Flip up front cleat
Sixteen optional roller positions
Fixed position stern roller
Three bed-way rollers with adjustable positions
Safety bulkhead
Optional bow/winch storage module
Low maintenance
Cool beige color
Model
Size
Weight
Floatation Capacity
Part #
EZ Port IV

168" x 80" x 15"

(4.25m x 2.0m x38cm)

500 lbs. (227 kg)
1600 lbs. (725 kg)
208014PW

48" Extension

48" x 80" x 15"

(1.2m x 2.0m x 38cm)

240 lbs. (80 kg)
400 lbs. (181 kg)
208014EX
Entry Extension

24" x 80" x 15"

(60cm x 2.0m x 38cm)

100 lbs. (45 kg)
228014EX

Bow/ Winch

60" x 80" x 15"

(1.5m x 2m x 38cm)

250 lbs. (90 kg)
208014BW