EZ Dock is installed throughout Western Canada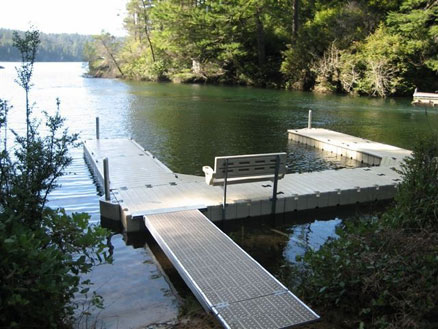 Residential Configurations
Designed for ease of maintenance, EZ Dock offers endless design possibilities for your specific waterfront property. There are many accessories to accent the way you use your dock. You can choose from
a slide, a bench, or other items to make the most of your space. Our docking system allows for EZ boat and PWC lifts for added enjoyment
on the go. Just idle up, ease into throttle, and docking is complete.
Special Events
Our system is perfect for events that take place annually or have to travel from town-to-town. EZ Dock is completely mobile so you can set
it up and take it down as you see fit. You can add pieces later as your event becomes more popular, or you can change configurations to meet the next event's demands. Imagine the possibilities for a band on the water or a photography stand for the finish line. Maybe your trade show display needs to be on the water for that special effect. All of these can be achieved with EZ Dock. Call our team today and see how we can make your event special.

Commercial Configurations & Marinas
Whatever your waterfront business, EZ Dock has the right products for you. Marina & Commercial applications, Hotels and Resorts, Restaurants and Retail, Property Developers, Military and Industrial, Parks & Recreation and more...
Our team can help you to design and install a custom dock system. From a simple fishing pier to a more complex docking system that includes boat lifts, drive on docks for PWC (personal watercraft), or dock accessories; We have something to fit your needs. Take a look at some of our installations below.
EZ Dock has helped create thousands of marinas throughout the world. Our experienced engineering team can help you choose a dock layout that will maximize the space you have available while maintaining local regulations; or we can recommend ways to upgrade your existing slips.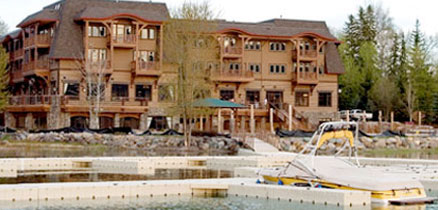 Is your business on the waterfront? Have you ever thought of making your establishment accessible to drive-up water traffic? The possibilities are endless with EZ Dock. Whether it's an upgrade from an old existing dock, or a brand new idea to boost business, EZ Dock can design and build a variety of modular floating boat docks, watercraft ports and all the accessories to make your custom dock system a reality.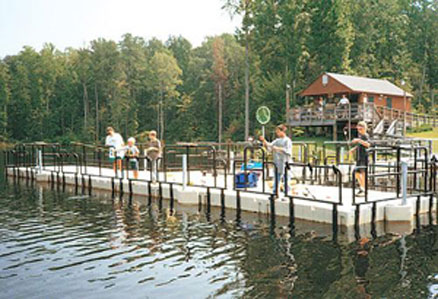 Fishing Piers
An EZ fishing dock or fishing pier makes a great addition to your camp, cabin, or park. Like all EZ Dock equipment, our fishing docks are made from Earth-friendly, long lasting polyethylene.
EZ Dock uses special patented hollow chambers that create suction and pressure; making it the most stable floating dock on the market. They are even wheelchair accessible. Our fishing piers come in an exclusive light beige color that stays cool to the touch and resists fading in the sun.
EZ Dock also offers some great dock accessories for your new fishing dock. Outfit your new fishing pier with unique EZ Dock railings that have built in rod holders, or choose the new EZ Stow dock box to store your fishing gear.
Our expert team of water enthusiasts can help you - whether its adding boat slips, PWC lifts, a swimming platform, or a fishing pier.
Let us help you choose the right configuration.
EZ Dock Configurations
EZ Docks are dependable for years of enjoyment.  The simple building block design can be arranged in a variety of ways. With several dock section sizes and shapes to choose from, you can get the configuration that fits your needs best; And you can add on at any time.
We are certain you will find that your EZ Dock is more durable and requires less maintenance and upkeep than the standard wooden dock.
All EZ Dock sections and Float Lifts come with an eight year factory warranty, and the hardware is protected with a one year factory warranty.
Contact a Representative for more information.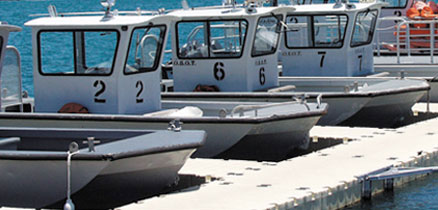 EZ Dock offers ideal solutions for military or police force needs. From research purposes to a full-blown coast guard fleet, EZ Dock can offer you a solution which best suits your needs
We have training configurations for diving, swimming, etc. Our EZ Port PWC lifts provide safe and EZ launching so you can get where you need to be quick.
EZ Dock can show you ways to create an excellent layout for emergency situations. Call us and let us help with your mission.
Today there is more property development than ever and more awareness of environmental impact, especially on waterfront development. EZ Dock is becoming the chosen supplier for waterfront developments because of the eco-friendly materials.
EZ Dock is the perfect choice for condo associations, common areas for neighborhoods, retirement communities, town-homes, or anywhere there is a need for docks, slips, boat or PWC lifts, or just a meeting place on the water. Go ahead and create a paradise for future homeowners. EZ Dock will help you.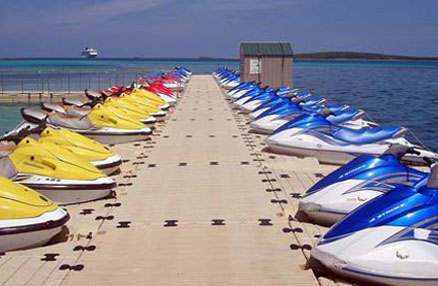 Whether your park facility has lodging or not, if it's on the waterfront,
EZ Dock will be able to help you convert it into a place that will appeal
to families and water sport enthusiasts alike
EZ Dock is perfect for recreation sites because of the low maintenance. The docks do not stain and can be left alone for months without worry. The patented connecting coupler system requires a special tool to deter vandalism. And since you are a member organization, EZ Dock understands the pressures of government/organization budget cuts so EZ Dock offers fundraising programs so your entire community can benefit.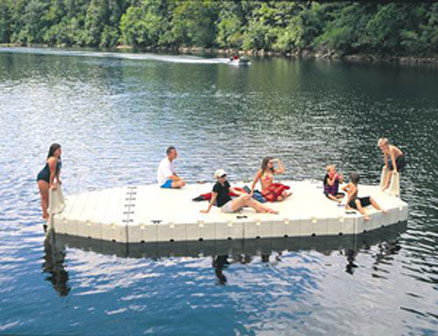 Swimming Platforms
Want to create your own paradise? Peace of mind as well as peace and quiet can all be achieved when you choose a floating dock system from EZ Dock for your waterfront design needs. EZ Dock floating dock systems allow you to create dock platforms that can be enjoyed a multitude of ways: Swimming, Waterskiing, Boat Storage, Entertaining Family, entertaining Clients or Friends, Scuba and Snorkeling, Photography/Film Crews, Wildlife Research, Fishing, Safety Areas, Special Events...and much more!
Nature Walks - EZ Trail
EZ Dock knows that people like to explore natural habitats. The walkways are modified dock sections that can be configured to access areas such as wetlands. A leading manufacturer of plastic docks. EZ Dock provides a safe, eco-friendly environment for people to do just that-explore without disturbing the natural surroundings.
EZ Dock has helped waterfront establishments add value to their property and create a place to relax and enjoy the surroundings.