Dock Sections
NEW EZ Dock Grey Docks available NOW!
EZ Dock's exclusive beige colored floating boat dock sections are attractive and cool to the touch, even on the hottest of summer days. EZ Dock docking sections are rotomolded from low-linear density polyethylene, and have a patented hollow-chamber that creates pressure and suction - this is what makes EZ Dock the most stable floating dock system on the market. And since there is no foam, it is friendly to the environment. The light beige color allows light penetration, but is not hurt by UV rays. Patented coupler connectors are used to attach the dock sections. The special coupler design allows flexibility that works with the waves - not against them. Both patented design features work together to create a more stable floating dock, pontoon, or jetty. Whatever you call your dock, EZ Dock invites you to walk on the competition, and then walk on an EZ Dock before your make your purchase. You will feel and see the difference with your very first step!
A view of the bottom and inside of an EZ Dock section reveals individual flotation chambers and an extra-heavy duty wall thickness that creates tremendous structural integrity. The need for foam fillings and the environmental concerns related to other modular docks are completely eliminated.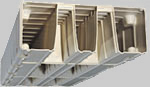 Modular docks by EZ Dock are easy to maintain and come in a variety of anchoring options. Each floating boat dock section is part of a versatile modular design that remains securely connected. And since the dock is modular, you can design a dock system that has the perfect layout for your needs, or even add sections at a later date.
EZ Dock™ patented one-piece, self-floating design is fast and easy to install. You can choose to install EZ Dock yourself or hire one of our authorized dealers to install for you. Most EZ Dock dealers have inventory on site, so you can get started right away. Choose the boat dock configuration that best suits your application, and give your local dealer a call today.
Features and Benefits
Low maintenance color
Variety of dock anchoring options
Convenient dock accessories
Versatile modular design
Secure connection couplers
Strength and flexibility
Safe, slip resistant dock surface
Four season accessibility
| | Size | Weight | Floatation Capacity | Part # |
| --- | --- | --- | --- | --- |
| A. | 40" x 5' x 15" | 100 lbs. | 1000 lbs. | 204060 |
| | 1m x 1.5m x 38cm" | 45.4 kg | 453.6 kg | |
| B. | 40" x 10' x 15" | 190 lbs. | 2000 lbs. | 204010 |
| | 1m x 3.1m x 38cm" | 86.2 kg | 907.2 kg | |
| C. | 60" x 10' x 15" | 285 lbs. | 3000 lbs. | 206010 |
| | 1.5m x 3.1m x 38cm" | 129.3 kg | 1360.8 kg | |
| D. | 80" x 10' x 15" | 375 lbs. | 4000 lbs. | 208010 |
| | 2m x 3.1m x 38cm" | 170.1 kg | 1814.4 kg | |
| E. | 60" x 10' x 15" | 210 lbs. | 2000 lbs. | 260120 |
| | 1.5m x 3.1m x 38cm" | 95.3 kg | 907.2 kg | |
EZ Dock adds even more layout versatility with our new half-hexagon dock option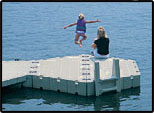 Special connection couplers are designed to allow sections to move independently under high-stress conditions, yet provide unified stability. Made with recycled material, the couplers are compounded to prevent fatigue problems. The composite coupler bolt and nut eliminate rusting in all water conditions.
Part #301100